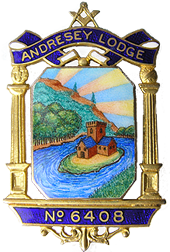 Welcome to the Andresey Lodge No.6408 website
Andresey Lodge is a lodge of freemasons meeting at Ashfield House, Ashby Road, Burton-on-Trent in the Masonic Province of Staffordshire. We meet eight times a year on the second Tuesday of each month October through to May.

Masonic guests are always welcome at all of our meetings, please contact us if you would like to come along.

To learn more about the origins of our name, our Lodge history and our charitable fund raising, please use the links below.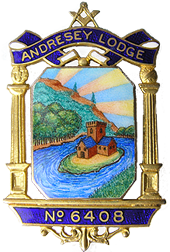 About Andresey Lodge
In this section you will find current information relating to Andresey Lodge, including our annual calendar, current Lodge Officers, regular and specific events, how it all started and why Andresey in particular.
We enjoy our masonry and we hope you find our information interesting.
Calendar | Current Lodge Officers | Events | Lodge Formation | What's in a name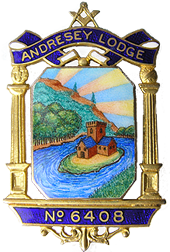 Our Lodge History
The history of Andresey Lodge dates back to its formation in 1947. As you, this site visitor can appreciate much has happened over the years and many members have come and gone during that time.
The pages of a website are not the right vehicle to pass on our history, so we have produced a comprehensive document for you to download and read at your leisure.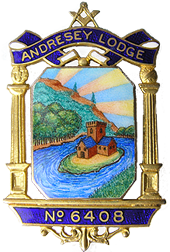 Charity and Andresey Lodge
A fundamental part of Freemasonry is Charity and Andresey Lodge is proud of its efforts in raising funds to help, Masonic, non Masonic, national and local charities and good causes.
Every 12 years or so the Provincial Grand Lodge of Staffordshire agrees to host "A Festival" where each lodge is requested to raise funds so that a collective donation can be made for charitable purposes. Our current Festival in 2024 aims to raise over £2,000,000.
In addition to monies raised for "The Festival" the lodge also makes donations directly to local appeals and charities. St Giles Hospice being a regular recipient of our fund raising efforts. In addition donations have been given to, The National Memorial Arboretum, The Queens Hospital, a defibrillator for The Octagon Shopping Centre, The Stroke Club, YMCA, Derby Kids Camp, Dyslexia Institute, the Tsunami Appeal. the Donna Louise Trust, Bessie Brown Home, St Modwens Church, Hillfield Home, Horace Pritchard House, The Heart Association, Abbots Bromley Carers Centre, Aspergers Group, The Queens Hospital Echo Appeal, The Queens Hospital Scanner Appeal, Burton War Memorial Fund, A Plus Self Help Group, A Plus Carers Group, Cares Centre, Macmillan Nurses Cancer Relief.
Hospital Teddy Bear Scheme (TLC) - The Province buys from donations received from all lodges Teddy Bears. These Teddy Bears are given to A & E Departments at Staffordshire hospitals, so that hospital staff can give to any child entering hospital in a distressed state, the comfort of the gift of a new Teddy Bear.